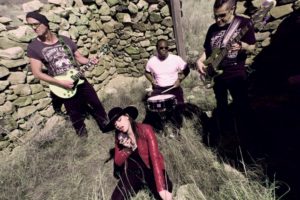 Foxy
Fox White celebrates their new album release in Madrid
June 7, 2017, 12:00 am
By now, you should be aware of Jessie Deluxe, a welcome dash of operatic punk rock awesomeness in our scene who mines from areas similar to bands like Eagles of Death Metal, but with a slightly heavier lean and healthy regard for the classics of rock. Did you know Deluxe also fronts Fox White, a triumphant quartet not entirely unlike her usual offerings and perhaps more prolific in their songwriting prowess?
Fox White formed two years ago as a side project but, according to Deluxe, has grown into a far more regular gig. "Jessie Deluxe is still totally a thing and there will be another album coming out this year," she says, "but [Fox White] has had the same amount of effort and intensity, and we've been working on this album for a year."
The self-titled release to which Deluxe refers contains a whopping 17 tracks that run the gamut from all-out rock 'n' roll to jam band-like tomfoolery, but all with a cohesive, collaborative vision courtesy of band member/album engineer Danny Duran. "We rehearse at Danny's studio in Galisteo, and you're staring at recording equipment all the time," Deluxe notes. "We just had so many songs and it was getting out of control—I wanted to put out 21, but we couldn't fit them all on the CD—but we recorded everything live in one day, which is crazy."
Luckily, Deluxe had recorded her guitar parts before a snowboarding mishap left her with a broken arm, but even with a three-month delay while she was recuperating, she overdubbed vocals. Now that's punk rock.
Fox White performs the album in its entirety this Friday at the Mine Shaft Tavern (plus a few other gems thrown in), and though it's not an official release (Deluxe refers to it as a "celebration"), it will be available for sale. Intrepid listeners can sneak a listen at foxwhitemusic.com, but if you've ever seen a performance from Jessie Deluxe, her name alone should be reason enough to attend. (Alex De Vore)
Fox White
8 pm Friday June 9. Free.
Mine Shaft Tavern,
2846 Hwy. 14, Madrid,
473-0743
– See more at: http://www.sfreporter.com/santafe/article-13505-foxy.html#sthash.fTI8baaw.dpuf